Amal Hussein Ismail [she/her]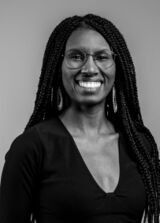 Amal is currently the Network´s European Solidarity Corps volunteer for programmes and will be facilitating the understanding of the needs of FGM-affected communities in Europe and helping to uplift their voices in the scope of the "Understanding Community Voices" project with the other ESC volunteer. She will also assist the Coordinator of Programmes in the work of the organisation as well as in the planning of the events in line with the Network's strategic plan and Work Plan for 2022 and, later, 2023.
Before taking up this role, she gained an extensive experience in the area of advocacy and social participation in the field of international protection and migration in Spain, experience acquired during her time with NGOs such as the Spanish Commission for Refugee Aid and OND Rescate. She is a member of the NGO Save a Girl Save a Generation, with which she has worked as an agent of change, providing training on prevention, detection and intervention in the field of female genital mutilation.
She holds a degree in Political Science and Public Management from Universidad Rey Juan Carlos in Spain. These last months she has been part of the 2022 Gender Justice Beyond Borders - Migrant Youth Leadership Program specialising in the implementation of the ILO c190 and the ILO c189 in the EU; she was also a Youth Ambassador against FGM at End FGM Network and a Fellow of TuweZeshe programme.
Her driving goal in life is the active fight to eradicate Female Genital Mutilation, forced marriages and fully support the right of Asylum seekers and refugees.
Amal is fluent in Spanish and Swahili and has a good level of English.