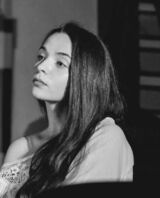 Nina Medan is the Network's European Solidarity Corps volunteer acting in the Communications department under the supervision of the Senior Communications and Campaigns Officer Myriam Mhamedi. She will co-implement phase 2 of the Understanding Community Voices project, facilitating the understanding of the needs of FGM-affected communities in Europe and helping to uplift their voices with the other ESC volunteer. She will also assist in the department's mission to increase the visibility of End FGM EU's work. This includes generating content relevant to the Network's advocacy, managing social media accounts, and compiling newsletter updates from members and partners. She also provides support in the coordination of conferences, public events and campaigns.
Before participating in this project, Nina was involved in multiple grassroots campaigns at both local and international levels. The focus of her work revolves around the human rights of migrants, with a strong focus on intersectionality in humanitarian aid. In the spring of 2022, following the invasion of Ukraine, she facilitated the integration of displaced Ukrainians in Romania and aided in logistics, supply chain and fundraising efforts.
While her core academic training is in Psychology, she believes in a multidisciplinary approach to knowledge and activism. She has made it a priority to integrate sociological, political, and anti-colonial dimensions in her education. As a result, she holds both a Bachelor's Degree in Clinical Psychology and a Master's Degree in Global Migration and Decolonial Theory, the latter obtained from University College Dublin's Sociology School.
As a result of her experience, she is drawn to understanding the processes of identity-making and resilience-building in the lives of minorities. She is dedicated to the Network's mission to learn from Survivors and situate their experiences at the centre of the narrative.
Born in Romania and having studied abroad, Nina is fluent in both Romanian and English.