FSAN - Federatie van Somalische Associaties Nederland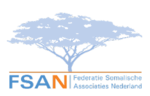 The Federation of the Somali Associations in the Netherlands (FSAN) is a non-profit, non-political organization founded in the Netherlands in 1994. 52 regional and district organizations in Netherlands fall under umbrella of FSAN. Its purpose is to support and advise local Somali refugee organizations as well as Dutch institutions that work closely with Somali community in the Netherlands.
FSAN has worked on collaborative projects like 'FGM in the Netherlands: From Policy to Practice' which was funded by Ministry of Health, Welfare and Sport from 2000-2002. This project aimed to make FGM a topic of discussion within the Somali community and also within the Dutch health care sector at large and to foster dialogue between these two groups.
It has also delivered training to the youth, religious leaders and key people from Somali and Sudanese communities to initiate a house-to-house campaign against FGM.
FSAN has also been liaising with African organisations in Sierra Leone, Ethiopia, Eritrea, and Sudan. It is a member of the Inter-African Committee in Europe and a founding member of the European Network against FGM. Between 2007-2009 FSAN was the national coordinator of the National Action Plan against FGM in the Netherlands, which is funded by the European Commission.