FGM in Europe
It is estimated that around 600.000 women are living with the consequences of FGM in Europe. This number is taken summing different studies done at national level with the numbers from an overall study based on the 2011 European Census, to fill the research gaps where needed. FGM exists in Europe and has been around for a long time. While data does exist on FGM in Europe, obtaining the figures has always proven to be difficult and hindered by many challenges. Research has shown that there are still many gaps that need to be addressed in order to develop adequate evidence-based national and European policies on FGM.
Online Interactive Map on FGM in Europe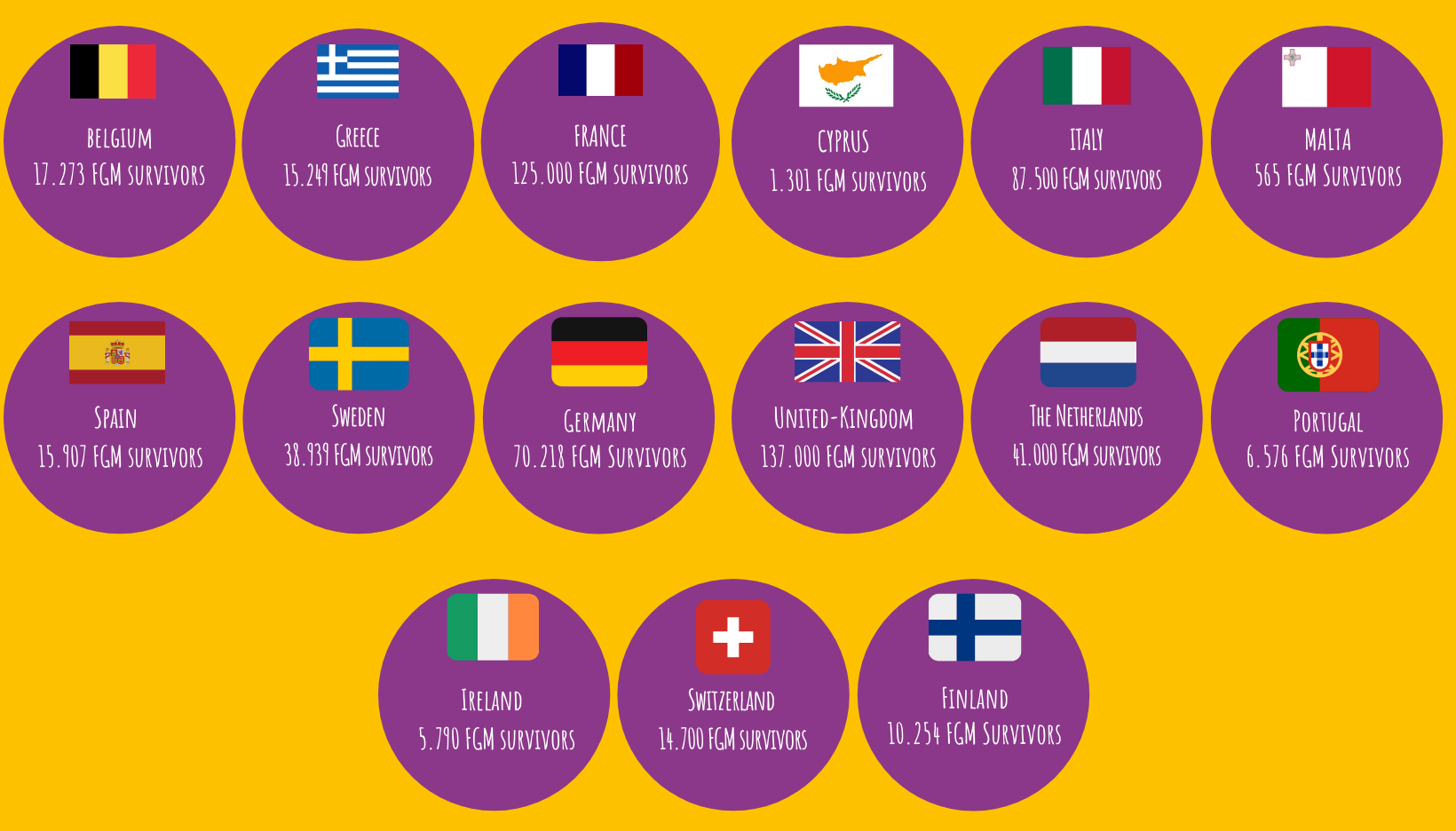 Download the FGM in Europe Map
Data on Girls at Risk of FGM
The European Institute for Gender Equality (EIGE) plays a leading role in providing information and research on estimations of girls at risk of Female Genital Mutilation in the European Union and supporting Member States to prevent and combat this harmful practice, and has carried out four main studies on the subject.
Data on FGM affected female asylum seekers
According to the latest UNHCR 2018 "Too Much Pain" statistical report[1], in 2017, 66.000 women and girls coming from FGM-practising countries applied for asylum in Europe and over 24.000 of them could potentially have already been affected by FGM, although this figure is likely to be higher. Despite the overall drop of absolute numbers of arrivals compared to 2016, the report also shows that the share of women and girls applicants from FGM-practising countries has been steadily increasing in the past four years, going from 1/5 of the total number of female applicants in 2013 to almost 1/3 in 2017. Moreover, within the female applicants coming from FGM-practising countries, the percentage of women and girls potentially affected by FGM has also increased between 2016 and 2017.
Moreover, in its first "Too Much Pain" report, UNHCR estimateed that every year between 2013 and 2017 in average over 20.000 women and girls asylum seekers coming to Europe might be affected by FGM.
Such numbers confirm the need in Europe to pay increasing attention to Survivors of FGM, among other forms of Gender Based Violence (GBV), in the asylum systems.
Challenges
Many challenges stand in the way of progress when it comes to ending FGM in Europe. These include:
Lack of knowledge in the professional community on FGM for those who come into contact with FGM cases. See UEFGM for supporting professionals dealing with FGM.
Lack of funding for grassroot communities: In order for there to be cooperative action to end FGM in Europe and beyond, affected FGM communities need to be present in ending FGM.
Lack of data and research.
Lack of a systematic and holistic approach to the provision of services relating to FGM and the need for culturally sensitive services.
What Can Europe Do?

At European Union (EU) level, there are key tools that contribute strongly to putting an end to the harmful practice of FGM in Europe and beyond. The Network works to insure that policy, decision makers and other EU stakeholders continue to increase their engagement in ending FGM through:
Increased understanding and awareness on EU commitments on FGM.
Supporting NGOs/CSOs and grass root communities in tackling FGM.
Implement a coordinated human rights based and child focused approach in all areas relating to ending FGM.
Key tools:
---
[1] UNHCR Bureau of Europe periodically releases a statistical report on "Female Genital Mutilation & Asylum In The European Union", specifically on the number of FGM-affected women and girls asylum seekers applying in Europe for a refugee status.