LESSAN's: role-playing game for stopping GBV & advocacy meetings
ROLE GAME – MFGE-ac
The project "Men Standing-up for Gender Equality - Amplifying Change" has reached the next phase and taken two important steps in the fight against gender-based violence and FGM/C. Together with the project partners Femme Entraide et Autonomie in Paris and Himilo in Amsterdam, Lessan e.V. in Hamburg has developed a role-playing game. 
The online role-playing game helps everyone who plays it to put themselves in the shoes of victims of gender-based violence and gain insight into what girls and women must go through when they seek asylum abroad. Many victims suffer various forms of violence during their flight history and are often completely powerless against it. Most are not only affected by FGM/C, but also by early and forced marriage, abuse, domestic violence and or sexual abuse. In the role play, the story of a mother with child on her escape route was reconstructed. 
The story consists of more than 60 texts supported by animated images. Depending on the choices made and the player's luck, 17 different endings can be reached. This is available for all on our homepage www.lessan.eu.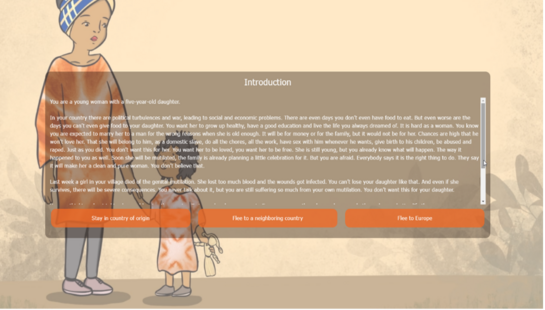 Advocacy Meeting 06.02.2023 with the MEPs and European Commission

LESSAN e.v. FEA and HIMILO, with the support of MEP Pierrette Herzberger-Fofana, who is the Chair of the project, organised the Advocacy Meeting on February 06, 2023.
The Advocacy Meeting took place on February 6 at the European Parliament in Brussels to mark "Zero Tolerance Day" against Female Genital Mutilation. Numerous change mediators and change champions from Germany, Paris and Amsterdam as well as several members of the European Commission such as Samira Rafaela, Pierrette Herzberger-Fofana, Helena Dalli, Isabela Atanasiu attended the event. 
The welcoming speech for the Zero Tolerance Day against Female Genital Mutilation was given by EU Commissioner Helena Dalli, who has been working for the welfare of women for many years. She is committed to ending violence and discrimination against women, as well as female genital mutilation and forced marriage.
The Change Mediators and Champions report on their successes in working with the various affected communities and the challenges they have faced at different levels. In addition, the Change Mediators and Champions describe the issues on which the EU could support them.
"The work of the male multipliers is of great importance and elementary for a change in thinking and behaviour. If there is no rethinking also from the male point of view and uncircumcised women have the same value as a woman, also in terms of marriage. Because otherwise mutilation will continue to be practiced." The event at the European Parliament was a success and well received by the participants.