The CHAIN project EU conference: Linking the prevention of female genital mutilation (FGM) & early and forced marriage (EFM)
On 12th of May 2022, the CHAIN project partners, the End FGM European Network, ActionAid International Italia Onlus (Milan, Italy), Equipop (Paris, France), TERRE DES FEMMES (Berlin, Germany), Save a Girl, Save a Generation (Madrid, Spain), celebrated the 2-year CHAIN project coming to an end.
End FGM EU, along with CHAIN project partners, hosted a hybrid international conference to take stock of the CHAIN project results. Simultaneously held in Brussels in Townhall Europe and online through video-conferencing, the high-level event involved key actors linked to the goals of the project such as EU decision-makers Commissioner Helena Dalli, MEP Evin Incir (S&D, Sweden) and MEP Pierrette Herzberger-Fofana (Greens/EFA, Germany). It also saw the participation of Equal Brussels represented by Mr. de Buyst, Responsible for the Regional action plan to combat violence against women.
In her pre-recorded opening remarks, Commissioner Dalli said "Developing a community-based approach is the strength of your success. It is thanks to the work of NGOs – as the CHAIN project demonstrates- that effective policy shaping can take place."
Click here to find Commissioner Dalli's full message.

Through a mixture of keynote speeches and panel discussions, the conference presented the work that was carried out through CHAIN and the projects' achievements, key learnings on community work and results of the CHAIN for Change awareness-raising campaign.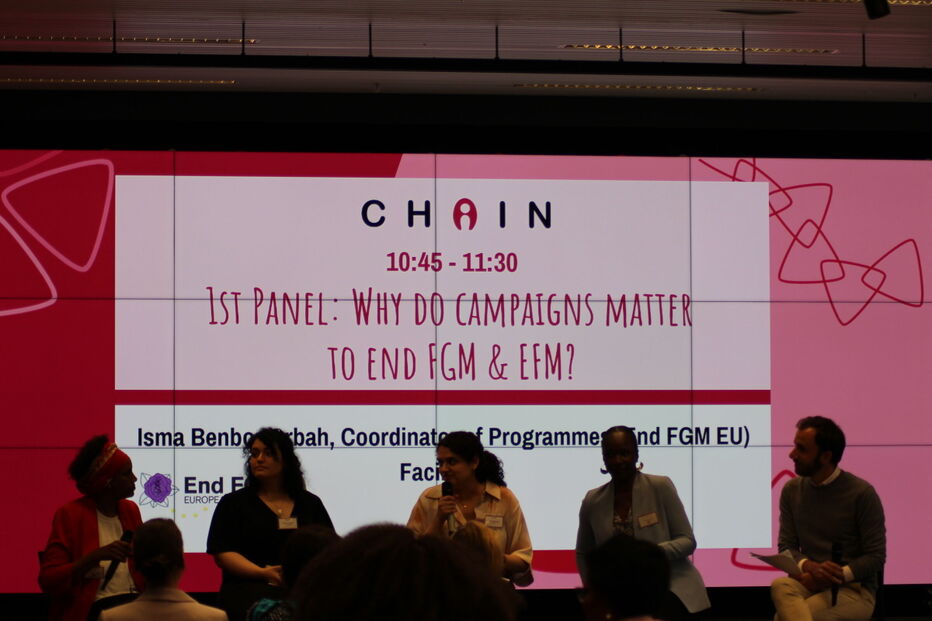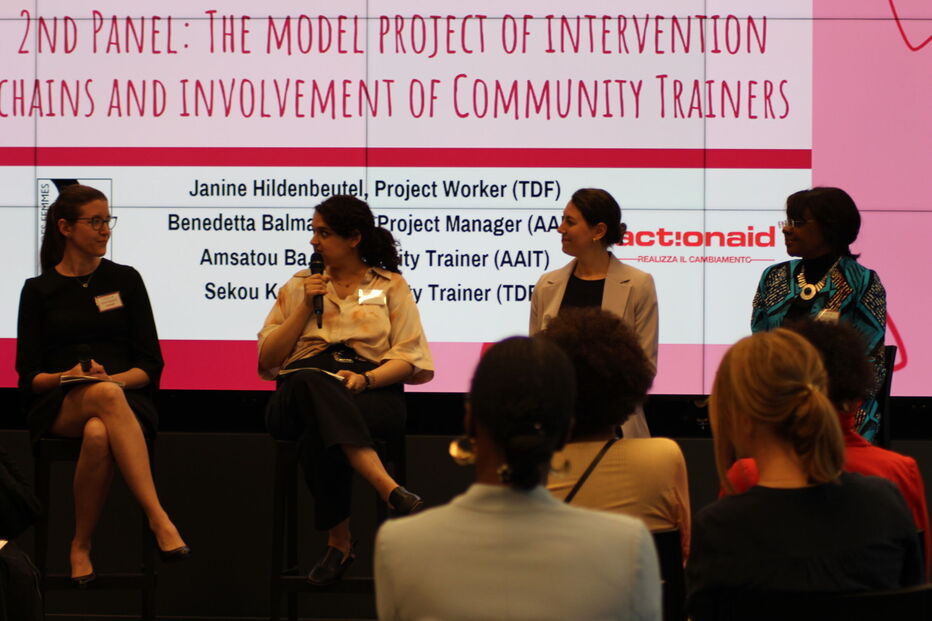 The CHAIN project has worked on linking the prevention of female genital mutilation (FGM) and early and forced marriage (EFM) in Europe, by focusing on strengthening the prevention, protection, and support for survivors of gender-based violence through capacity building, community empowerment and awareness-raising, while also giving a voice to community concerns and needs at the political level.
This event was thus also a space for Community Trainers – members of affected communities who are involved in the project – to exchange with policymakers on how to best support community involvement towards the abandonment of both FGM and EFM in Europe and beyond. We thank Sulekha Ismail, Amsatou Ba and Sekou Kaba for sharing their expertise and points of view with us during the conference.
The CHAIN partners hope that this successful project and the conversation started at this EU-level conference will inspire further initiatives addressing harmful practices, starting with the upcoming European Commission Recommendation on Harmful Practices, despite the taboo surrounding these topics. Moreover, we hope that the example of the intervention chains will motivate greater involvement in these initiatives of both communities who are primarily concerned and of key professionals who are the first respondents in FGM and EFM cases.
We believe that the CHAIN project has demonstrated the great impact of supporting and uplifting communities. It is not only their right to take ownership of the policies affecting them but they are also essential to foster the cultural and policy change necessary to end FGM and EFM for good.





Background
The CHAIN project is an EU co-funded project coordinated by TERRE DES FEMMES and in partnership with ActionAid International Italia Onlus, the End FGM European Network, Equipop, and Save a Girl Save a Generation.
During the two-year project period (01.09.20 – 31.08.22), the CHAIN project aims to tackle Female Genital Mutilation (FGM) and Early and Forced Marriage (EFM), two forms of gender-based violence – through capacity building, community empowerment and awareness-raising, and giving voice to community concerns and needs at the political level.
One of the main objectives of the project is the development and implementation of local intervention chains bringing together local and national actors who are involved in responding to urgent cases of FGM and EFM.
To protect women and girls at risk and support those affected at the institutional level, these intervention chains are intended to determine instructions for action in cases of threatened or already occurred FGM and/or EFM in Berlin, Madrid, Milan and Paris. A second main objective of the CHAIN project focuses on capacity-building for key professionals. The goal is to sensitize relevant professionals on EFM and FGM, the link between both practices and how to respond to any potential cases. In order to do so, the partner organizations in Italy, Germany, France and Spain trained so-called Community Trainers from affected communities, who will then sensitize community leaders from various diaspora communities (such as religious and traditional leaders, and community elders) on both topics and enter into dialogue with them. In addition, the Community Trainers provide further training to key professionals from public authorities, the health and social sectors throughout Europe, as well as formal and informal community-based organisations, to mobilise them as multipliers in tackling FGM and EFM.
The CHAIN project, finally, aims at changing attitudes towards FGM and EFM. To achieve this, End FGM EU, with the support of CHAIN partners and Community Trainers, and in collaboration with Boniato Studio and the Inklink, created the two videos of the CHAIN for Change Campaign, one on EFM and one on FGM.